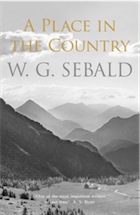 Last weekend, the Guardian published an extract from the forthcoming collection of essays by the brilliant WG Sebald, A Place in the Country
. It is more than 11 years since the writer died, but this is the first time these essays have been translated to English from the original German. In them, Sebald reflects on six of the greatest influences on his life and work, from Jean-Jacques Rousseau to Jan Peter Tripp.
The published extract is set on the tiny Ile St. Pierre, in Lake Biel, Switzerland, where Rousseau spent two of the happiest months of his life.  You can read the extract by clicking on the image below.
If you want to know why WG Sebald is worth reading (and he really is) try this article from the New Yorker.